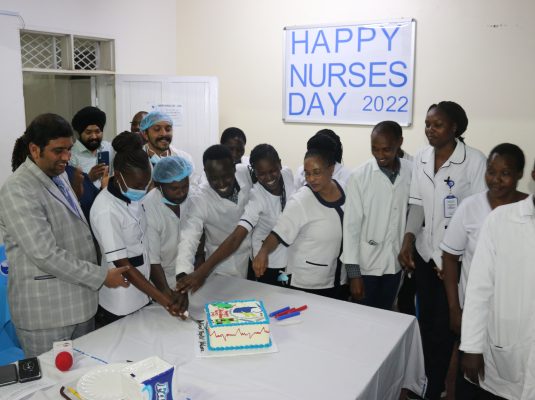 Mediheal Hospital Nakuru Management honors their nurses as World marks Nurses' Day
Date: May 14, 2022
Mediheal Group of Hospitals Nakuru Branch honored their nurses for their continued outstanding contribution towards better quality services delivered at the facility.
During the event that saw the nurses share a cake with the management and journalists, the Management led by Vice President Operations Santosh Devaraj lauded the nursing fraternity at Mediheal Group of Hospitals Nakuru for their commitment to improving the lives of patients.
While noting the selfless service the nurses have continued to offer at the facility tirelessly, Santosh assured them of the continued support adding that the welfare of the nurses and the other staff is at the heart of the Management.
"We decided to honor our nurses on this day as the World Marks Nurses' Day. We know the work they do tirelessly to ensure our patients are okay. As Management we are very grateful and we shall reciprocate by ensuring that we have their welfare taken good care of" said Santosh.
According to the Vice President of Operations, Mediheal Group of Hospitals has been conducting Family Health Day clinics that bring together the staff and their family members for free medical check-ups.
This, he says will go a long way in addressing any medical challenges that they may be going through as medical practitioners.
"Since the COVID-19 pandemic came up, mental health cases have been on the rise and that is why we decided as a facility to start a program where our staff including the nurses can have sessions of counseling through Family Health Days. We are also listening to their challenges and addressing them" said Santosh.
On her part, Chief Nurse at the facility Ms. Elizabeth Kigotho lauded the Management for organizing such an event for the nursing fraternity at the facility.
She noted that the nursing field has a lot of challenges and without a calling, one cannot survive especially with different characters of patients.
"As nurses, we go through a lot when we interact with patients and their relatives but with the grace of God we are able to make it," said Ms. Kigotho.
Mediheal Group of Hospitals prides itself in specialized services offered to patients with the facility having state of the art equipment.