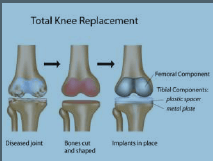 Total Knee Replacement
A Total Knee Replacement is a surgical procedure whereby the diseased knee joint is replaced with artificial material. The knee is a hinge joint which provides motion at the point where the thigh meets the lower leg. The thighbone (or femur) abuts the large bone of the lower leg (tibia) at the knee joint. During a Total Knee placement, the end of the femur bone is removed and replaced with a metal shell. The end of the lower leg bone (tibia) is also removed and replaced with a channelled plastic piece with a metal stem. Depending on the condition of the kneecap portion of the knee joint, a plastic "button" may also be added under the kneecap surface. The artificial components of a Total Knee Replacement are referred to as the prosthesis.
The posterior cruciate ligament is a tissue that normally stabilizes each side of the knee joint so that the lower leg cannot slide backward in relation to the thighbone. In Total Knee Replacement surgery, this ligament is retained, sacrificed, or substituted by a polyethylene post. Each of these various designs of Total Knee Replacement has its own benefits and risks.
Knee Arthroscopy:
Your knee is the largest joint in your body and one of the most complex. The bones that make up the knee include the lower end of the femur (thighbone), the upper end of the tibia (shinbone), and the patella (kneecap). Other important structures that make up the knee joint include:
Articular Cartilage:
The ends of the femur and tibia, and the back of the patella are covered with articular cartilage. This slippery substance helps your knee bones glide smoothly across each other as you bend or straighten your leg.
Synovium:
The knee joint is surrounded by a thin lining called synovium. This lining releases a fluid that lubricates the cartilage and reduces friction during movement.
Meniscus:
Two wedge-shaped pieces of meniscal cartilage act as "shock absorbers" between your femur and tibia. Different from articular cartilage, the meniscus is tough and rubbery to help cushion and stabilize the joint.
Ligaments:
Bones are connected to other bones by ligaments. The four main ligaments in your knee act like strong ropes to hold the bones together and keep your knee stable. While two collateral ligaments are found on either side of your knee, two cruciate ligaments are found inside your knee joint. They cross each other to form an "X" with the anterior cruciate ligament in front and the posterior cruciate ligament in back.
Arthroscopy is commonly used to diagnose and treat problems that damage the articular cartilage, ligaments, and other structures around the joint.