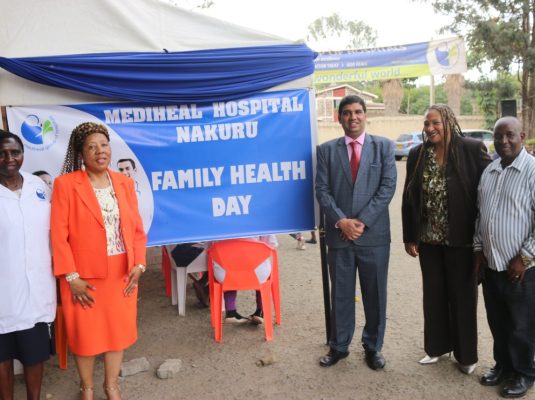 Mediheal Hospital Nakuru – Family Health Day
Date: April 11, 2022
Over 250 Mediheal Hospital Nakuru staff and their family members on Friday had the golden opportunity of undergoing free medical check-ups during the Health Day Free Medical Clinic held at the Facility in Nakuru to mark World Health Day.
Speaking during the event, Mediheal Group of Hospitals Nakuru Vice President of Operations Mr. Santosh Devaraj stated that the gesture was a way of giving back to the community as well as staff and their family members.
Mr. Santosh also revealed that the Facility looks forward to hosting such events every year to help the staff and their family members to appreciate the role they play in the facility.
"We thought about our staff and family members and that is why we prepared this Free Medical Camp. We want to thank our Management and the entire team for the support. We look forward to having a similar one next year" said Mr. Santosh.
Similar sentiments were echoed by Chief Nurse and Matron Mediheal Nakuru Ms. Elizabeth Nyokabi who lauded the Facility for the gesture.
Ms. Elizabeth was categorical that many people are having health complications without knowing for failing to come up for check-ups.
She was quick to note that those who have been diagnosed with various diseases will have to be referred to the Doctors for investigations and treatment.
"We are so grateful to our Management for organizing this event. We have seen some patients who were having high blood pressure, and high sugars yet they were not aware. We have handed them over for investigations and treatment" said Ms. Nyokabi.
Staff and their family members who showed up for the Free medical camp could not hide their joy at the end of the activity.
Led by Judy Wangeci, Susana Chemweno, and Faith Chemutai lauded the Mediheal Group of Hospitals for the gesture.
They called on other private health facilities in Nakuru and the country at large to emulate the Mediheal Group of Hospitals in assisting people on matters of health.