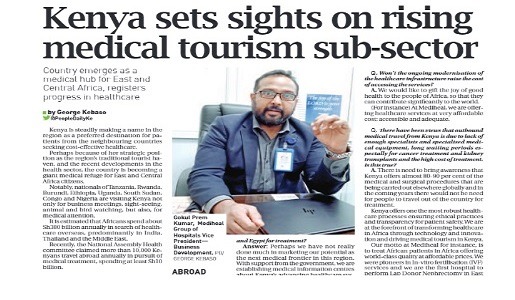 Kenya set sights on rising medical tourism sub sector
Date: December 18, 2019
Kenya set sights on rising medical tourism sub sector
Published in People Daily Wed, December 18, 2019
Kenya is steadily making a name in the region as a preferred destination for patients from the neighbouring countries seeking cost-effective healthcare.
Perhaps because of her strategic position as the region's traditional tourist haven, and the recent developments in the health sector, the country is becoming a giant medical refuge for East and Central Africa citizens.
Notably, nationals of Tanzania, Rwanda, Burundi, Ethiopia, Uganda, South Sudan,Congo and Nigeria are visiting Kenya not only for business meetings, sight-seeing,animal and bird watching, but also, for medical attention.
It is estimated that Africans spend about Sh380 billion annually in search of healthcareoverseas, predominantly in India, Thailand and the Middle East.
Recently, the National Assembly Health committee claimed more than 10,000 Kenyanstravel abroad annually in pursuit of medical treatment, spending at least Sh10 billion.
Ease suffering Cancer patients make up more than 50 per cent of Kenyans going for medical treatmentoverseas. Renal diseases (16.8 per cent), cardiovascular diseases (7.8 per cent) whileskeletal disorders account for 3.4 per cent.
According to Gokul Prem Kumar, a certi- fied medical tourism professional, Kenya will be targeting this multi-billion-shilling medical tourism market to attract patients keen on high-end healthcare services.
In an interview with Kumar, who is also Mediheal Group of Hospitals Vice President—Business Development, People Daily established that close to 10,000 visitors from theregion arrive in Kenya for healthcare services every year.
Exerpts:  Question: What could be the reason for the rising numbers yet Kenyans are still flying out to Asia, Europe, US, South Africa and Egypt for treatment?
Answer: Perhaps we have not really done much in marketing our potential as the next medical frontier in this region. With support from the government, we are establishing medical information centres about Kenya's advancing healthcare system. This will enable us to talk about the country's diversity.
Q. What is medical tourism, and how important is it to the country?
A. Medical tourism is when people who live in one country travel to another country to receive equal or greater care than they would have in their own country. Most people travel for medical care because of affordability, better access or higher quality of care. Kenya, besides being well connected within Africa and beyond by air, road, and water,the country offers a beautiful diversity of landscapes and good climate. And in providing good connectivity for patients, and with an excellent hospitality, Kenya possesses the most advanced infrastructure with ultra-modern facilities in healthcare.
Q. Won't the ongoing modernisation of the healthcare infrastructure raise the cost of accessing the services?
A. We would like to gift the joy of good health to the people of Africa, so that they can contribute significantly to the world. (For instance) At Mediheal, we are offering healthcare services at very affordable cost; accessible and adequate.
Q. There have been views that outbound medical travel from Kenya is due to lack of enough specialists and specialised medical equipment, long waiting periods especially for cancer treatment and kidney transplants and the high cost of treatment. Is this true?
A. There is need to bring awareness that Kenya offers almost 80-90 per cent of the medical and surgical procedures that are being carried out elsewhere globally and in the coming years there would not be need for people to travel out of the country for treatment.Kenya offers one the most robust healthcare processes ensuring ethical practices and transparency for patient safety. We are at the forefront of transforming healthcare in Africa through technology and innovation and driving medical tourism in Kenya. Our motto at Mediheal for instance, is to treat African patients in Africa offering worldclass quality at affordable prices. We were pioneers in In-vitro fertilisation (IVF) services and we are the first hospital to perform Lap Donor Nephrectomy in East Africa for Kidney Transplant. At Mediheal we have done a new method of endoscopic transsphenoidal surgery of Brain and Spine ensuring better clinical outcomes.
Q. Who is benefiting from such advancements?
A. Mediheal hospitals in Kenya is catering to the healthcare needs of patients travelling from Tanzania, Rwanda, Burundi, Ethiopia, Uganda, South Sudan and Congo to name a few at a very affordable cost. We also offer complimentary airport pick up and drop with free translation services in French and Arabic including guest house facilitation for long-staying patients. As partners, we feel that it is time Kenya took advantage of the existing assets in the medical sector to ease the suffering of Kenyan patients and attract other nationals seeking specialised treatment services abroad.
ABROAD CARE
• Recently, the National Assembly Health committee claimed more than 10,000 Kenyans travel abroad annually in search of medical treatment.
• Cancer patients make up more than 50 per cent of Kenyans seeking medical treatment overseas. Renal diseases (16.8 per cent), cardiovascular diseases (7.8 per cent) while skeletal disorders account for 3.4 per cent.