MoU Signing Ceremony Message
MoU Signing Ceremony Message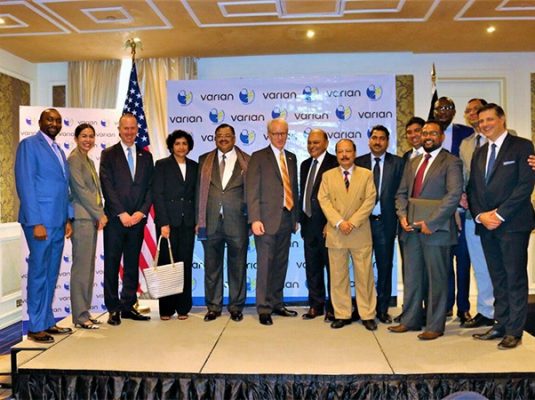 MoU Signing Ceremony Message
Date: June 26, 2019
Kenyans will soon have easier and more affordable access to cancer treatment as five state-of-the-art linear accelerators will be set up across the East African Region, Kenya included.
A Linear accelerator (LINAC) is a device most commonly used for external beam radiation treatments for patients with cancer treating all parts/organs of the body. It delivers high-energy x-rays or electrons to the region of the patient's tumor. These treatments can be designed in such a way that they destroy the cancer cells while sparing the surrounding normal tissue.
This great opportunity has been realized through a partnership between Mediheal Group of Hospitals and Varian Medical Systems to deliver radiotherapy services for the treatment of Cancer across Kenya and beyond. The agreement to actualize this was signed by Mediheal Chairman Hon. Dr. S. R Mishra and the CEO & President of Varian, Mr. Dow Wilson on 29th June 2018 at Villa Rosa Kempinski Hotel Nairobi.
The Cabinet Secretary for Health in Kenya Sicily Kariuki and Permanent Secretary in the ministry of health, oversaw the signing of the agreement as part of the Governments agenda to attain universal health in the country. The ceremony was also attended by the U.S Under Secretary of Commerce Gil Kaplan and senior staff from the Embassy of the United States of America in Nairobi.

Dear user, didn't find what you were looking for?
For Quick Assistance call us: